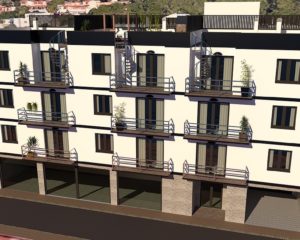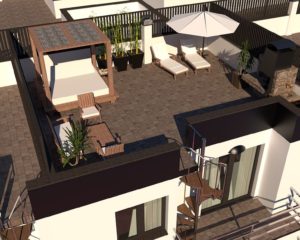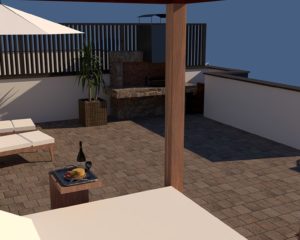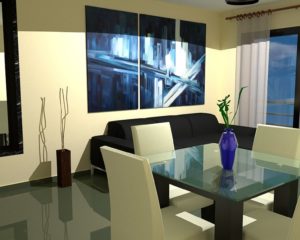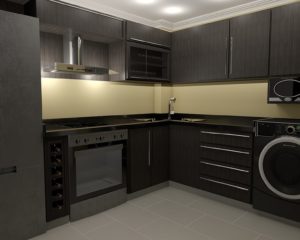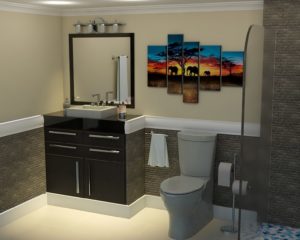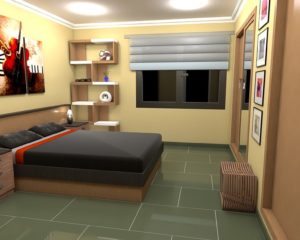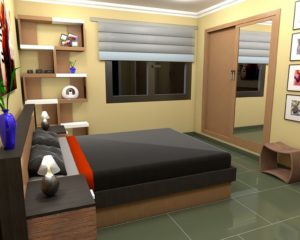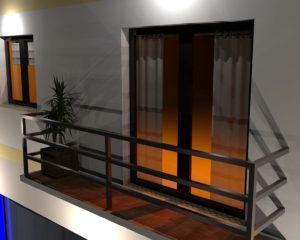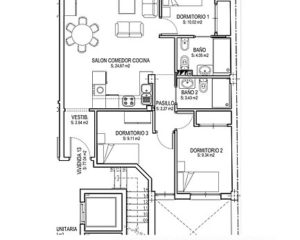 FOR SALE
Ibiza, 07800 Ibiza - Islas Baleares
Property Information
Ref. V005-20
Description
Housing 13:
Apartment under construction. New construction project.
Its price is € 390,000.
The apartment is located in the attractive natural setting of SANTA EULALIA (Ibiza), in Historiador Clapés Street. The building is sited in a paradisiacal ecosystem, between the sea and the mountains.
The main facade of the building faces south. That, plus the large windows the apartment benefits from, make this flat a very bright space where to enjoy the natural light throughout the day.
In Santa Eulalia, you will find all the necessary services for your day-to-day living. In addition to that and just 15 minutes by car from this location, you can enjoy all that Ibiza and the other municipalities around Santa Eulalia, have to offer you.
Following you will read the description of materials and quality standards followed, to appreciate the full value of this property.
Construction characteristics and qualities
1. Foundation and structure:
The foundation and structure are executed in a traditional way, isolated footings braced together and reinforced concrete pillars that will be the skeleton of one-way slabs.
2. Facades and roofs:
The roofs are flat passable in all cases, paying the utmost attention to waterproofing them, so self-protected asphalt fabric of mineral grain will be used; likewise, the insulation in this building plays an important role, when considering its execution so that it is as energy efficient as possible; therefore, insulation is proposed using extruded polystyrene plates, which offers very acceptable insulation.
3. Partition walls and insulation:
The interior partitions integrate all the electricity, telecommunications, plumbing, heating, and pre-installation of air conditioning installations, with a perfectly smooth finish, coated with top-quality white paint.
The execution will be done with a double hollow ceramic brick. The separation between houses is carried out by two double hollow ceramic brick partition walls. Before painting, on both vertical and horizontal surfaces, the finish will be made with black plaster plastered with white plaster. A false ceiling will be installed in the kitchen, bathrooms, toilets, and hallways.
4. Enclosures of the plot:
The parcel enclosures are executed with a 20x20x40 concrete block. The vehicle entrance door is motorized and has an intercom in a pedestrian access door, incorporating, in turn, the meter panels that allow reading from the outside.
The finish of these closings is with special painting for exteriors of first quality. Among the different materials that are used, we can find galvanized mesh in color, painted or varnished natural wood, and stainless steel for the perimeter finish of the farm.
Supply and installation of perimeter fencing of the property adjacent to the public highway, consisting of:
- 40 * 40 * 20 concrete block up to 1.8 meters high on a reinforced concrete band 50cm wide by 40cm deep; pillars every 3 meters executed with a concrete block and filled with mass concrete up to 2.20 meters high; iroko wood balusters between pillars and stainless steel through pieces. Including painting of all the elements, colours to choose from, including hardware, special parts, even plastered on both sides with white waterproof fine mortar fully assembled and finished.
5. External woodwork:
The exterior carpentry will integrate practicable windows and/or sliding aluminum profiles lacquered in dark gray and rough matte texture.
Its elegant aesthetics create a pleasant visual impact and its optimal functionality offers a greater degree of opening comfort and security.
The fittings are of extraordinary quality with hermetic closures of pressure and breakage of the thermal bridge, which provides high thermal and acoustic insulation and a great seal.
The set includes double glazing Climalit type, which avoids the condensation effect and makes the building envelope work in a very optimal way in terms of energy consumption.
All bedroom windows are fitted with shutters.
- Aluminum carpentry, natural anodized, for window shaping, practicable hinge and/or sliding opening to the interior, of variable dimensions, basic series, consisting of two sheets, and with the subframe. Built-in standard roller shutter drawer (monoblock), in bedrooms with PVC slat roller shutter, manually operated by tape and dustpan.
The Climalit-type glazing system consists of a 4mm inner glass + an air chamber that ranges from 10mm to 12mm and a 3 + 3mm outer laminated safety glass (in case of CTE requirements).
5. Interior carpentry:
The entrance doors to the Iroko wood building.
Entrance doors to houses in the smooth oak block, consisting of solid 70x30mm exposed oak tree, with rubber for sealing, smooth solid oak 90x12mm flashing, 3-point security lock, 4 security hinges, peephole, momo, medium bracelet; Installed on-site and lacquered, hardware finished in satin stainless steel.
The interior carpentry of step: of block in an oak smooth finish, made up of: solid garx of 70x25, sealing rubber, solid flashing of 70x17, the latch of 70, 4 bolts, handles, installed on-site and lacquered, hardware finished in steel satin stainless steel.
All doors with pine sub-frames.
Wardrobes: Overlapping sliding wardrobe doors in natural oak with 19mm oak veneer top, smooth 70x12mm oak veneer. Oak melamine paneling; the sides in 16mm, ceiling, floor, and partitions in 19mm all edged in PVC the rear in 10mm; also aluminum hanging bar with hooks.
6. Flooring and tiling:
National granite at the entrance of the building, landings, and stairs.
For the interior of the homes, gray porcelain stoneware with matching skirting has been chosen.
For kitchen flooring: 31x45cm matt white veneer
In toilets/bathrooms tiled in beige tones of the house HALCON DARWIN gray base, relief, and 20x50 Clay Gray, all this placed on mortar, grouting, and PVC and/or metal corner pieces when necessary.
On terraces and slopes, previously waterproofed with non-slip, stoneware in gray tones has been chosen.
In private patios, the cladding will be made of printed imitation in wood-concrete, with resins and mesh.
7. Installations:
Sanitation throughout the building is carried out using PVC pipes of different diameters and reinforced concrete manholes.
The plumbing of the cold water supply is executed with reticular polyethylene pipe with cut-off valves in each wet room. The hot water is carried out by means of an individual mixed boiler with the contribution of solar radiation capture, which represents significant energy savings.
Air conditioning pre-installation, through ventilation ducts with grilles in each room and return grille in corridors. A provision for a future thermostat is left ready and installed in the living room and a removable false ceiling in the toilet with a drain and an electrical outlet is all ready to receive an indoor air conditioning unit.
Telecommunications are equipped with television, FM, and telephone antenna sockets in the living-dining room and main rooms, TV antenna socket in the rest of the bedrooms and kitchen. Also having an intercom and antenna.
Electronic Mechanisms. The gray ZENIT brand, blending elegance and modernity, dresses the rooms with the most current fashion trends in terms of mechanisms for the home.
The electrical installation will be piped and embedded under a tube, installed in accordance with the Low Voltage Electrotechnical Regulations.
The internal ventilation, up to the roof, for the individual ventilation of each bathroom and kitchen.
8. Kitchens:
Low and high cabinets (design to be determined) with gloss veneered finish. White compact countertop; 1 bowl with stainless steel drainer
BALAY is a brand across all appliances, optimizing performance and efficiency. Oven, ceramic hob, and extractor hood are included.
9. Garages and Storerooms:
The garages are built with the same structure in reinforced concrete and separated with double plastered hollow brick. Implementing a forced ventilation system for air quality.
The floor of the garages with reinforced concrete floor. Electrical and fire installation according to the requirements of the Technical Building Code. Fire door between different sectors and in each storage room with intumescent grids.
10. Lifting equipment:
For lifting equipment and following with equal attention to quality, we opted for the EMBARBA brand, which offers constructive solutions that require less space for machinery and that are visually elegant and with excellent use of space, guaranteeing reliability and safety standards.
For more information, please contact us!
Contact phone (Spanish): 0034 965478541
Email: sales@ptoral.com
CONSTRUCCIONES P.TORAL, S.L
OUR MISSION
Our business project is orientated to the construction sector.
With over 20 years' experience, we specialise in new builds, renovation, as well as real estate management.
Quality, professionalism and commitment are important values in our every Project, from planning the build to the final step.
Our main objective is to satisfy each one of our clients, as well as adapting to their specific needs.
What makes our company, PTORAL, stand out is our wide range of experience, and our highly qualified team
During our long professional history, we have designed and executed both public and private works, from infrastructures to small renovations. Today we are a benchmark company in the construction and real estate sector, both in the interior of the Valencian and Murcia regions, and on the Costa Blanca.
OUR MOTIVATION
PTORAL's motivation is based on the desire to strengthen knowledge, anticipate and progress constantly to offer the best service to our customers by providing more efficient and innovative solutions, and carrying out projects that mean new professional and technological challenges.
Consolidation and expansion are the features that define us in the sectors in which we develop our professional activity based on an Innovation and Investment strategy to achieve opportunities without geographical limitations.
OUR VALUES
The excellence as PTORAL's corporate culture and the ambition to always overcome ourselves in our projects makes us one of the benchmark companies in the sector.
Commitment to quality. Each one of our actions must be part of an optimal service to the client and society in general, therefore, we commit ourselves to the development of projects, products and services that respect the environment and are safe for people.
Address
Ibiza, 07800 Ibiza - Islas Baleares